Welcome to another recap of the Yoast SEO news webinar. It's October and we're fast approaching the holiday season and the end of the year. For this year, we still have two SEO news webinars planned — be sure to join us! This month, hear our experts Jono Alderson and Joost de Valk discuss topics like continuous scrolling in Google, updates on the situation of the title rewrites, and the proposal for a performance team that should help make WordPress faster. Here we go!
Sign up for our next SEO news webinar
Before we get started, be sure to sign up for our next SEO news webinar on November 23. The easiest way to do that is to follow Yoast on Crowdcast and then you'll get notifications of any new dates — and reminders when a webinar is about to start. This way, you can keep following all the latest on SEO without having to read up everything yourself! Saves you time and effort.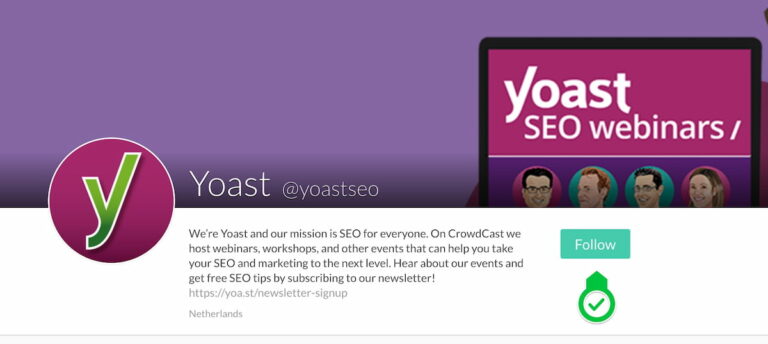 October 2021 Google news for SEO fans
This month, Google's been very active with loads of new launches, tests, and updates. We'll go over a few of them in the coming paragraphs, but be sure to watch the SEO news webinar recap to get all the insights from the discussions.
Continuous scrolling on mobile
One of the most visible changes Google launched is continuous scrolling in the mobile search results. This is pretty funny, as everyone will rank on page one from now on. It's not infinite scroll, as it only combines the first four pages, but still. Interesting to see what 'being on page one' as a metric now means. Will people's behavior change? Will it impact CTR? We'll have to test and see what happens.
Indented search results
Over the years, Google tested, implemented, and killed more things than anyone can remember. But, if you've been working in SEO for some years, you'll notice some things make a comeback. One of those things is the indented search results Google launched in October 2021. Or, relaunched actually, as Joost mentioned that these were already around in 2007. With this feature, Google might be back to grouping several of your search results for a keyphrase under one top-ranking result. This is a bit weird, as this increases the number of results from the same domain — something Google wanted to prevent from happening.
Short-form videos in the SERPs
We talked about this before, but it seems to be happening already. Google is testing adding short-form videos to the search results pages. We think this might be the first step of an evolution of the search results. Google will want to have more of this kind of content, as they're really keen on doing something with the stories format — see web stories. Expect more of this and don't dismiss it as just a social media thing that the kids do. If this is turning up in the search results, it's influencing how people think, how they buy, and by which funnels they convert with. So yeah, this is big.
Google is working on a breaking news feature called Big Moments
Google tends to be the place that people go to for information after something has occurred. Whereas Facebook and Twitter are where they go whilst it's occurring. And obviously, that means Google is missing out on users and revenue, et cetera. So Google really wants to be competing, but the breaking news space is different. It's not something that their ecosystem is designed to do very well. Google is now trying to find a way to better, algorithmically curate breaking news with something called Big Moments.
An update on the title rewriting situation
We've been talking about Google's rewriting of titles in the two previous webinars. Frustratingly, Google's response to that has essentially been, we'll keep doing it anyway and we'll try and get better at it. But they're still not getting better. With some new documentation, they try to make it clearer what they are doing, but it has only become more confusing. They've introduced a whole bunch of terminology.
We hope that the SEO industry will keep pressure on Google to say, actually, this is not good. It's not helpful. Please let us control how we represent our brands and our content in the search engines, or just do a better job of it. But at the moment, we're still stuck as Google says you have no control over it and then does a bad job of it. In some cases, not all cases of course.
Google Search on '21 event
Search On is Google's yearly event showcasing new developments in AI, search, and related technologies. Some of the things presented will find their way to the search results pages quickly, while others are concepts or tests. Still, it's exciting to see where Google is heading. You can watch a seven-minute overview to get up to speed:
Multi-modal search is a thing
One of the most important things Google showcased was the idea of a multi-modal search. With multi-modal search, Google can combine different inputs to form one output. Most of this is powered by MUM. We talked about MUM before; it allows Google to understand searches and results across languages, mediums, contexts, related topics. Not just matching keywords to documents.
This means that the concept of 'searching' becomes more than just typing something into a browser window. Google showed a great example of this where someone points a phone at a broken bicycle chain, and asks, "how do I fix this?". And another; "socks with this pattern".
They use that image, the context, the location, et cetera, to understand the query and serve helpful results. And then they offer lots of tools to broaden or narrow the search; steering the user through a journey to get to an answer.
Many of these things combine your camera, Google Lens, and the search engine to give you more options to search and find new answers. This also makes it possible to expand to shopping, where you simply point your camera at something you want and you'll get answers about where to buy it. Google is also looking to make shopping directly from the search results a possibility.
Deeper understanding of video
MUM also helps Google get a better understanding of videos. They're getting smarter and smarter extracting relevant content and then giving you the rest of the tools you need. Here, they're combing the various inputs from different channels to provide you with a complete answer.
We've said a few times, that you really need to be investing in video. This is how a big part of people solve their problems and make decisions in their buying process. You need to help people on these kinds of self-help journeys in context. Provide helpful video content that solves problems searchers might have.
Microsoft news for SEOs to take note of
Two interesting things coming from Microsoft: a new indexing standard called IndexNow and some insights about the upcoming holiday season.
At first glance, IndexNow is a solution in search of a problem. According to Microsoft, IndexNow should help sites get their content indexed faster. But we think, that's already covered by other solutions. There's no real need for a standard like this. For now, we're not adding this to Yoast SEO but we're actively monitoring the discussion to see what comes out of that.
The other thing is research from Microsoft showing that the upcoming holiday shopping season might start real soon. People are orienting much earlier than usual, partly driven by fear of stock shortages. So, when do you start working on your holiday season SEO? Yesterday, basically. Try to build a single Christmas page, which you keep forever. Pages like this get stronger and stronger every year that you always promote and link back to them.
WordPress news for SEOs to take note of
Over to some WordPress news. With WordPress 5.9 coming up, we got our first view of the new Twenty-Twenty-Two theme and it looks great. This might be our first taste of the full-site editing that is supposed to come out sometime soon.
In other news, Yoast-sponsored WordPress core contributors have suggested two new things that might boost performance. Ari Stathopoulos proposed a Web Font API to be included in WordPress. This is super nerdy, but it's a big deal, not just for design and creativity, but for performance, security, and a bunch of optimization reasons.
The second proposal is co-signed by Yoast and Google. It's a plan to set up a team for WordPress that specifically looks at how to enhance the performance of the CMS. Our competitors are getting faster and the WordPress community currently doesn't have enough focus to really put performance front and center. The new WordPress Performance Team will hopefully fix that.
Yoast news
Not a month goes by without having some Yoast news as well. In the past couple of weeks, we've launched Yoast SEO 17.3 and Yoast SEO 17.4. In Yoast SEO 17.3, we made our helpful SEO workouts even easier to use. In Yoast SEO 17.4, we worked on performance improvements and fixes for web stories.
We've also launched News SEO 13.0 and that gives you more options to describe your different types of news content with structured data. So, you can now differentiate between a background article or an opinion piece, for instance. This helps Google understand your news better.
Last but not least, our CEO Marieke did a workshop on keyword research together with Fernando Angulo from Semrush. This workshop aims to get you a keyword research strategy that helps you rank. Go watch it, it's great — and free!
That's an overview of SEO news from October 2021
Want to keep up to date with all the latest news in SEO? Of course, you do! Don't forget to sign up for our next two SEO news webinars — the final ones in 2021. These webinars are on:
November 23, 2021
December 21, 2021
Do follow us on Crowdcast and we'll keep you in the loop about all things Yoast SEO news webinar. Also, don't forget to check out the other SEO webinars our experts recently did.
Thanks and see you at the next SEO news webinar!
SEO news October 2021: Multi-modal search, WordPress performance – Yoast.