Do you have old posts and pages that need some new life breathed into them? It's worth taking the time to update your content. Not only is it better for user experience, fresh and up-to-date content is good for your SEO too. Follow the 10 steps below to update your content and make it even better the second time around!
This article assumes you already know which piece of content you want to update. Not sure where to start? Find out more about keeping your content fresh.
Preparing to update your content
When it comes to updating your content, it can be tempting to jump into edit mode and start making changes right away. But it's much better to assess the situation and plan your actions! Making updates and improving your content in a piecemeal way might make it unreadable. It's all too easy to end up with a 'Frankenstein's monster' text, made up of patchwork parts that don't really fit together well. Planning ahead and getting an overview of what needs to change will help you avoid this. Plus you can organize your activities more strategically and make sure your content goals are still being covered.
While you're preparing to update your content, keep the purpose of the page in mind. Why does it exist? What does it offer for users? What role does it play in your website, and what goals do you want to achieve with it? Thinking about the purpose of your content early on will help you to keep it on track as you make changes.
Read more: Why the purpose of your text is important for SEO »
1. Complete rewrite, or small update?
Before anything else, you should read your post or page and assess how much work needs to be done to bring it up to date. You don't need a detailed list of changes to make, just a good awareness of whether you'll be rewriting the whole thing, or just adding an extra paragraph, for instance. If you only want to make small changes, things like fixing typos and spelling mistakes, then you can probably just make these changes directly. The rest of this article deals with how to approach making bigger changes to existing content.
2. Refresh your research
It's a good idea to refresh your research before you make any content updates. Users' search intent and the search terms they use can change over time, so you might want to take some time to research these again. You could also check out your competition again, too.
In addition, there might be useful clues in your Google Analytics or Search Console data. If your page has been performing well with long-tail keywords, maybe you can start trying to rank for shorter keywords with this update. If your page has been struggling, you can use your data to look at which metrics are below average and get ideas for improvement.
Keep reading: How to do a one-page analysis in Google Analytics »
3. Check what similar content you have
Keyword cannibalization, or content cannibalism, is a problem. Having too many similar pages on your site can make it confusing for users, and it can hurt your SEO too. Faced with similar content, Google doesn't know which page to rank. And users don't know which one they should click on, either. So you should avoid creating very similar content if you can. The easiest way to do this is by checking if you have any pages about the same topic. A little bit of similarity between pages isn't an issue. But when the majority of the content on your page is very similar to another page on your site (or elsewhere), that is an issue.
There are various options to deal with similar content on your site, and some of them fit in very nicely in the update process! For instance, you could merge two similar articles into a single article, combining all the best parts. Or you could differentiate them from each other by adding more unique content to one of the pages. Or another option is to write about the same topic in a different way. Find out what similar content you have before you start writing so you can avoid creating similarity issues, and maybe you can even solve some!
Rewriting your page
Whether you use the Rewrite & Republish tool or not, you'll want a copy of your old text that you can work on. Then you're ready to start writing your content update!
Tip: Easier content updates with our Rewrite & Republish tool
When it comes to rewriting your page, we absolutely recommend you use the Rewrite & Republish tool in Yoast Duplicate Post. This is how it works:
You click the Rewrite & Republish button
A clone of your existing post or page is automatically created in a new draft
You can take your time to make all your changes in the draft version
Once you're ready to update your content, click on 'Republish' (or schedule republishing)
The new version will automatically overwrite the original version.
With this very handy feature, you can make changes to your content, save your draft and preview your changes — all without users seeing any of your new content until you're ready. And you don't need to copy-and-paste anything! Yoast Duplicate Post is a standalone plugin, separate from our SEO plugins, so you'll need to download it here (for free!) to use the Rewrite & Republish tool.
4. Is your content factually up-to-date?
Give your content a good read through. Has anything changed since it was last written? Is there new information available on this topic that could (or should) be included? Keeping your factual information fresh makes your content more useful for users, and that can give you an advantage over your competition. It also makes your content more trustworthy too, and that brings its own benefits.
Aside from any facts you're referring to, you should also check things like prices, promotions and 'upcoming' events that have already taken place. If you advertise offers that people can't use, or events that have already happened, you'll create a bad user experience. And that can stick in people's minds. If users are disappointed too many times, eventually they might give up on your site and go elsewhere.
Finally, although it can be time-consuming, it's a good idea to check your outgoing links, too. While the URLs may still be active, it's possible that the content on that page has changed. So if you want to provide a really stellar user experience, and it's been a while since you added those links, give them a click and see what you find!
5. What can you add to make it better?
While you're updating your content, is there anything else you can add to make your page better? If you have a comments section, take a look at how people responded the last time you published your page. If you find questions, why not answer them pre-emptively this time around? You can often find inspiration by looking at what 'People also ask' and 'Related searches' on the Google search results page of your keyword, too. If you need even more ideas, AnswerThePublic is a great tool you can try as well (it's free, up to a limit).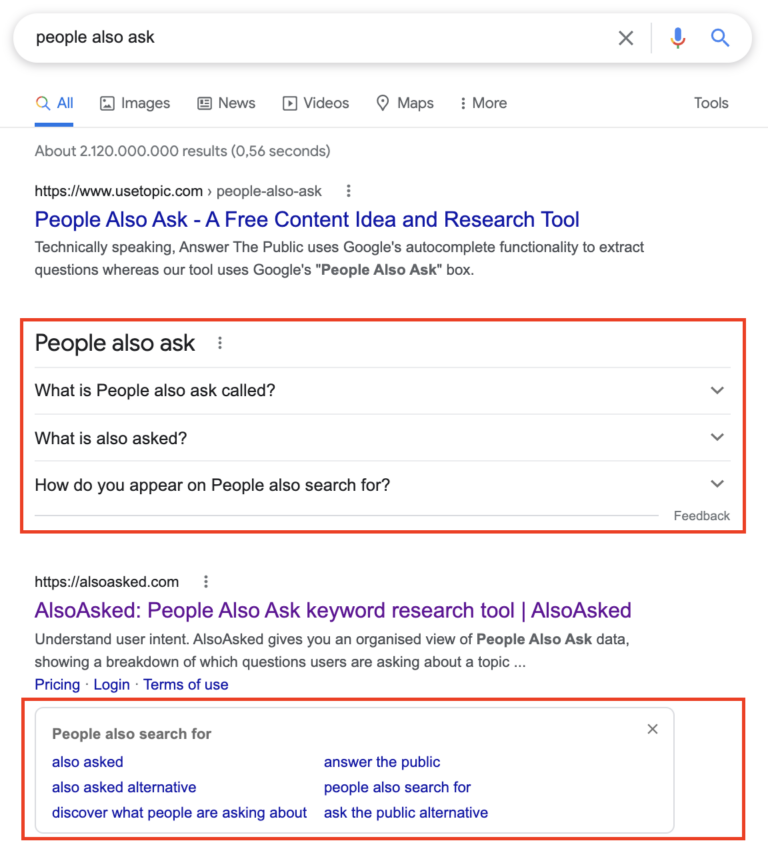 Read on: Using Google's search results to create great content »
6. How's the overall quality?
After you've made all these changes to your content, take a look at the quality overall. Is it a well-structured, easy-to-read text? Does it deliver what its title promises? Are the ideas and arguments connected logically from one to the next, so it's easy for users to follow what you're saying? Aside from making sure your content is high-quality and readable, you can also think about your use of media. Could you add an image or a video that will help users to understand? And don't forget accessibility matters, too!
If you're using the Yoast SEO plugin, you can take a look at the Readability analysis to make sure your content is up-to-scratch.
Keep on reading: What is quality content and how do you create it? »
7. Final text review before you update your content
When you feel satisfied with the improvements you've made and you aren't planning to change anything else, take the time to read your post or page again, from start to finish. Or better yet, get someone else to read it and give you feedback. Do this the same way you would check a brand new piece of content before publishing. Are there any typos? Have you added all the links you wanted to add? Of course you can always make small changes later, but it's better to get these things right first time. This is especially true if you're going to share your content in a newsletter or social media post!
Ready to republish your updated content?
Your content should now be thoroughly updated and ready to see the light of day again! But before you set your updated content live, there are a few final things you should consider.
Note: If you're not using the Rewrite & Republish tool, then you'll need to paste your updated content into the existing page in edit mode before continuing with steps 8-10. Things can go a bit wonky when you paste formatted text, so double-check everything is displaying correctly.
8. Check your SEO title and meta description
Your SEO title and meta description should be a good reflection of what users can find on the page. They also need to be appealing to get users to click on them in the search results. Now you've updated the content, check and ensure that your SEO title and meta description are still a good advertisement for the page.
Read more: Clickbait headlines and why you should NOT use them »
9. Old comments – keep or delete?
If your previous version of the page has comments on it, decide whether you will delete these or keep them. If the page has changed a lot, it might be better to remove them as they won't necessarily be relevant anymore. They might even be confusing — if you decide to update the date as well, you could end up with comments that seem older than the page itself.
10. Change the publish date
Last but certainly not least — you may want to change the publish date on your post. If this is shown on your page, it will let users see that your content is recent (which makes it a more reliable source for them to use). If you're using WordPress, it will also push your post back into the list of 'Your latest posts' and other automatic feeds based on the publish date.
The final step to update your content
All that's left to do now is click on 'Republish' or 'Update'. Now take a look at your updated content on the front end of your site and admire your work!
This was our guide to updating content, but you're free to make whichever changes make sense to you. Of course, you don't need to update every aspect — it's up to you to decide what matters for each piece of content. What do your content updates include? Do you do anything else besides these steps? We'd love to hear about it — let us know in the comments!
Keep reading: Clean up your old content with our SEO workout! »
How to update your content in 10 steps (and make it better) – Yoast.