Launched just a couple of months ago, the SEO workouts in Yoast SEO Premium turn out to be a real asset for many people. The two SEO workouts we have right now, help you enhance your internal linking structure and improve the quality and discoverability of your content. In Yoast SEO 17.3, we've drastically improved the two workouts making them even more practical.
The cornerstone content workout
The first SEO workout we launched in version 16.6 of Yoast SEO Premium is all about properly linking your most important content. The SEO workouts offer simple, step-by-step guidance to help you improve your site and making it SEO fit. You probably have a couple of articles that are incredibly important to you and your audience. You want to show the importance of these articles within your site structure by adding links from other relevant pages on your site. With the cornerstone content workout, you can easily determine this.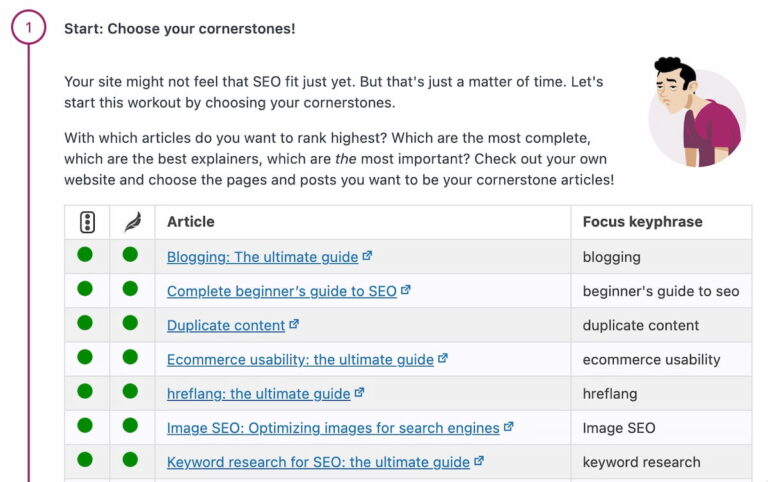 By using the cornerstone approach, you are making very clear to Google that these are your most important articles and that they should treat them as such. As you link to these pages a lot, search engines recognize the importance. But how do you know if you've properly linked your cornerstone content? That's where the SEO workout comes in.
Easy peasy!
The process is really easy:
Mark the articles properly as cornerstone content,
Check the number of incoming links for these articles,
Add an article with few links to optimize in the next step,
Add links to the cornerstones,
Done!
We've updated the cornerstone content workout to make it more practical for you. There's a lot less moving between screens involved. Now, you can work directly from the workout. For instance, you can find articles and mark them as cornerstone content without leaving the workout. You can now also add articles to optimize and we'll automatically suggest five relevant pieces of content to add a link to your cornerstone. Unfortunately, Yoast SEO can't add the link yet — but never say never.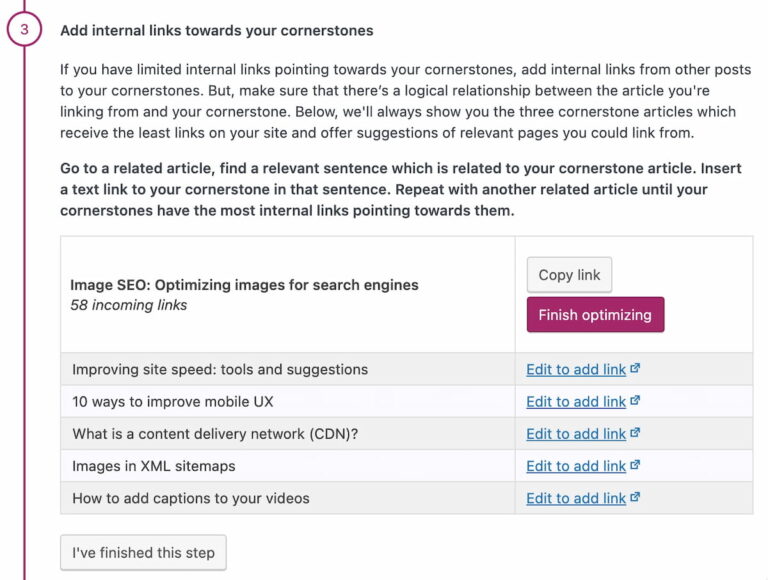 The orphaned content SEO workout
The orphaned content SEO workout in Yoast SEO Premium — launched in Yoast SEO 16.9 — is all about the question love it or leave it. As your site gets older, there's bound to be a lot of stuff that's just baggage. Sometimes, you produce a piece of content but don't properly link to it from other posts making it almost invisible for search engines. The orphaned content SEO workout helps you clean up that mess. In Yoast SEO 17.3, we've excluded categories and tags from the workout as this makes it easier to work with.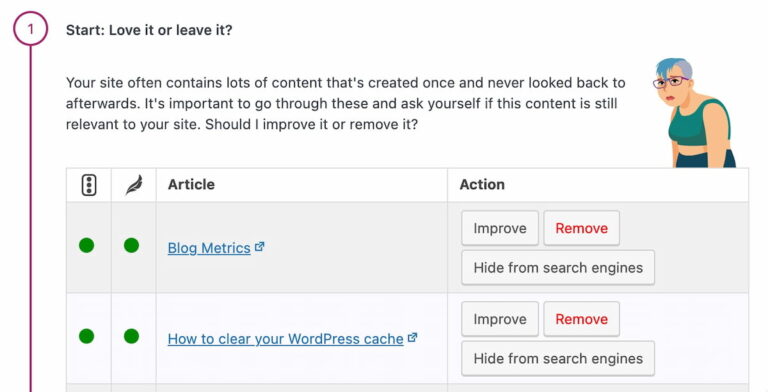 It just takes a couple of steps
The orphaned content SEO workout is very easy to understand. It's a hands-on exercise that everyone can do regularly. Here are the steps:
The first step shows a selection of posts that can use some love,
From there, you can choose to improve it, delete it or hide it from search engines,
If you pick improve, your articles will move to the next step where you can determine if the article is still up-to-date,
If it is still current, you can mark it as such and the article will move to the next step,
In the final step, you can add links pointing to your orphaned article making it more visible on your site.
Check the summary to admire the work you've done!
Don't forget to regularly do this SEO workout to help keep your site clean.
Again, the orphaned content SEO workout is very hands-on. You can immediately remove it, where you'll get the chance to add a redirect to a related article selected by Yoast SEO. If you choose to hide an article for search engines, Yoast SEO will automatically do that for you by adding a nofollow. In the third step, you'll again get a selection of poorly linked articles with suggestions for articles to place a link to that one in.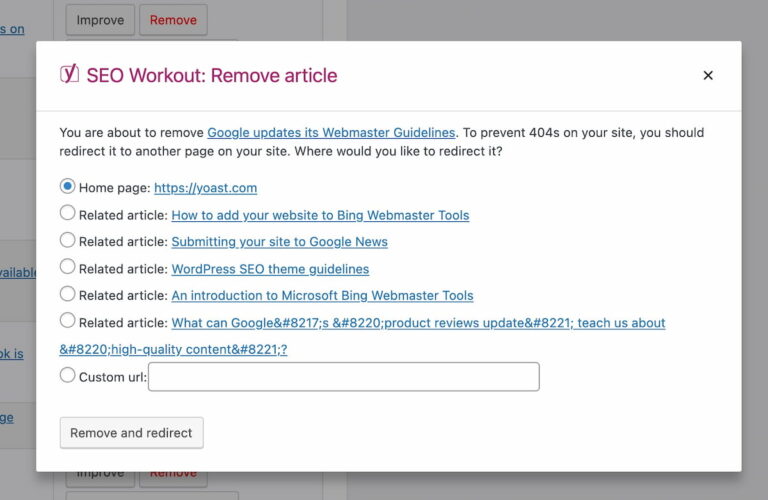 Your work finishes with a nice recap of all the articles you've improved and what you did with them. Sit back and be proud of your work!
The SEO workouts are some of the most exciting additions to ever arrive in Yoast SEO Premium. With these workouts, we can help you improve your site in ways we couldn't imagine a couple of years ago. By using the workouts regularly, a healthy site is right around the corner!
Other enhancements in Yoast SEO 17.3
Yoast SEO 17.3 comes with a number of fixes and enhancements. For instance, we've improved the accuracy of the Keyphrase in slug assessment by correctly detecting multi-word keyphrases with at least one hyphenated word in the slug. We've changed the default color for overall scores to red so they are easier to spot. In addition, we've added version management to our indexables framework. As a result, the SEO optimization process becomes more robust, while also preparing the system for future features.
Update now to Yoast SEO 17.3
In Yoast SEO 17.3, we've drastically improved the SEO workouts for Premium users. These tools have become indispensable additions to every site owner or manager's toolkit. With these workouts, you can roll up those sleeves and get going!
Yoast SEO 17.3: Easier and more practical SEO workouts – Yoast.